In today's episode, I sit down with Mark Rothermel, a friend, fellow St. Thomas parishioner, and former student from the Kino Catechetical Institute and ask him, "How Did You Get Here?"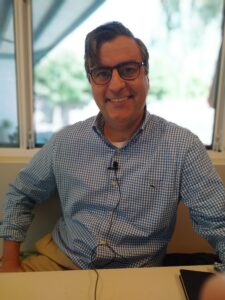 Note: some links lead to my Amazon affiliate page, which has generated precisely zero dollars in the 10+ years I've had it.
Avocado Green Bathroom
On the Revival of the Gaelic Language (not Welsh)
Hoodwinked!
Shakespeare and the Bible
King Richard
"A horse, a horse! My kingdom for a horse!"

Catesby
Withdraw, my lord; I'll help you to a horse.

King Richard
Slave! I have set my life upon a cast,
And I will stand the hazard of the die.
I think there be six Richmonds in the field;
Dive have I Slain today instead of him.
A horse, a horse! My kingdom for a horse!

Richard III, Act-V, Scene-IV, Lines 7-13
17 An horse is a vain thing for safety: neither shall he deliver any by his great strength.

Psalm 33:17 King James Version (KJV)
Grammar Goofiness
World War II Clips
St. Ignatius Loyola: Enter his door, come out yours.
Whenever we wish to win someone over and engage him in the greater service of God our Lord, we should use the same strategy for good that the enemy employs to draw a good soul to evil. The enemy enters through the other's door and comes out his own. He enters with the other, not by opposing his ways but by praising them. He acts familiarly with the soul, suggesting good and holy thoughts that bring peace to the good soul. Then, little by little, he tries to come out his own door, always portraying some error or illusion under the appearance of something good, but which will always be evil. So, we may lead others to good by praying or agreeing with them on a certain good point, leaving aside whatever else may be wrong. Thus after gaining his confidence, we shall meet with better success. In this sense we enter his door with him, but we come out our own.

Letter of St. Ignatius Loyola to Fathers Broët and Salmerón
Special Thanks:
To Mark Rothermel for being a fascinating guest.
To BPD for producing the show.
To my very generous in-laws for the use of their home once again.

The Last Word
Matthew 12:36 Revised Standard Version Catholic Edition (RSVCE)
36 I tell you, on the day of judgment men will render account for every careless word they utter;