This is why I didn't post anything yesterday. I was too busy trying to find a fitting way to honor my wife, without whom our family falls into ruin.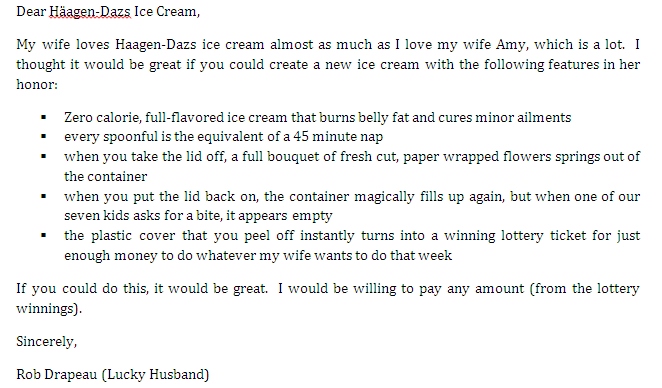 Haagen-Dazs replied. I don't know if it will come through, but the second paragraph was in a slightly different font.  I think that was their attempt to personalize the response.
Hello Rob,

Thank you for your email regarding Häagen-Dazs®. We always enjoy hearing from our consumers with suggestions about ways to improve our products.

We are delighted to hear that you as much as yourself have enjoyed our products. Our flavor development team members work very hard each year improving tried and true favorites and devising new and exciting flavor combinations — they will be happy to receive your positive feedback!

Our flavor team works year-round experimenting with new flavor ideas or modifications to flavors we already offer. While we cannot guarantee that your request will be acted upon immediately, we can assure you that we will pass along your suggestion to our flavor team members for their consideration.

Because we appreciate that you took the time to contact us, I have included a link at the end of this email for a printable savings coupon that I hope you will enjoy!Thank you again for taking the time to contact us.

Have a nice day!
The lady who got back to me forgot to attach the printable coupons.  I'm waiting for another response.